I got a late start heading into work today, thanks to a residual headache from last night, meaning I didn't arrive in Bethesda until 9:15 this morning. As I exited Bethesda's
Auburn-Del Ray Avenue parking garage
on the Auburn Avenue side, I saw a man running down the sidewalk after a 15-lb Blenheim (rich chestnut on pearly white background)
Cavalier King Charles Spaniel
.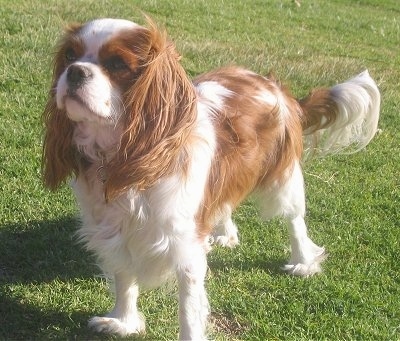 Of course you'd find a Cavalier King Charles Spaniel in Bethesda.
Ever the superhero, knight in shining armor, protector of good, and righter of wrong, I channeled my inner Thundercat, G.I. Joe, Gobot, and T.U.R.T.L.E. power and decided that it would be I, who would save this dog from the busy streets of downtown Bethesda. To be honest, I won't try stopping your dog if it's over 65 pounds.
There comes a time in every man's life when he needs to ask himself, "what would the Teenage Mutant Ninja Turtles do?"
I kneeled with outstretched arms hoping the dog 1) would slow enough for me to grab it; 2) not be filled with rabies (I assumed any dog in Bethesda would surely be up on shots); 3) not run past me, thereby implying I would have to give chase and be more late for work; and 4) would also ask its owner for $100 to thank me for risking life and limb.
The scene of my daring, made-for-TV-movie lifesaving rescue.
The dog ran toward me and stopped to smell my shirt. At which point I picked it up and gave it to its owner who arrived 5 seconds later, panting from the run and fear of losing the dog. The dog had jumped out of the car at the Exxon station ½-block up at Old Georgetown Road while the owner was pumping gas. If the dog had to run any direction, at least it wasn't toward the super busy and dangerous Old Georgetown Road. I wonder how far the dog would have gone if I hadn't stopped it.
And when a dog saves a human from Bethesda roadways, the dog gets humiliated into wearing this.
This time around, there was no cash reward to speak of, but that's really not why me and my fellow Crusaders of Justice get into this line of work. I did get a big thank you from the owner, a smile from a turning motorist, and some white dog hair on my shirt.
All in a day's work.