Only a few days remain for you to get your hands on the best tasting Coca-Cola of the year! In order to be Kosher for Passover, the soda is made with pure cane sugar instead of corn syrup.
This
blog explains
the ingredient change in far better detail including this nugget and accompanying picture:
Every late March and early April, for the two to three weeks leading up to the celebration of the Jewish Passover holiday season in the United States, Coke fans living in major metropolitan areas with large Jewish populations get their Real Thing, if only for that brief fleeting period. According to Jewish law, nothing made with chametz (any of a number of proscribed cereals and grains, including corn) during passover may be consumed — so in order not to lose sales from observant Jews during that eight day period, a small number of Coca-Cola bottlers make a limited batch of the original Coke formulation, using refined sugar. Needless to say, stocks run out quickly and fans of Passover Coke have been known to travel many miles seeking out supermarkets with remaining caches.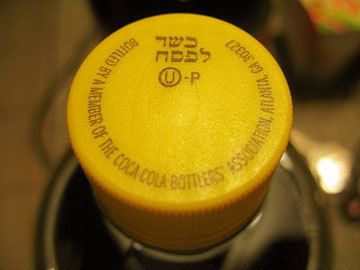 The cap to a taste bud orgy.
For some reason the Howard County supermarkets I frequent do not offer any Kosher for Passover Coca-Cola. They have the usual sampling of
Manischewitz
food and Dr. Brown's Black Cherry soda (the best ever!), but no 2-liter bottles with yellow caps. Leave it to my old Montgomery County neighborhood supermarkets around Bethesda (the
KosherMart in Rockville
always has tons available) to bail me out as I just purchased a few yellow-capped bottles of Coke to enjoy soda nirvana.