I have never been a good bowler. Ok, I have never been much of a bowler at all. I'll bowl maybe twice a year and make it through 3 or 4 games with scores like 80, 100, 115, 107. My game was (notice the tense change) way off with lots of open frames. I understood the game and how to pick spares, etc., but I couldn't execute. I realize it's like saying, I know how to swing a golf club, but I can't break 100, but somehow this is different.
Narcissistic bowling ball and pins love their reflections.
I've always tried to be a
straight bowler
, but I've never been consistent. From college through last month, I'd bowl maybe twice a year when I'd see my childhood buddy. I tried curving one of the house balls and always hurt my right middle finger by the 2nd game. This pain would occur no matter the weight of the ball, yet I am stubborn and continued trying it each time we'd bowl. Once my finger hurt, I'd skip hooking the ball and went for a straight roll, but of course it never worked.
Last year, after hurting my middle finger bowling with my friend, I played around and threw the ball without using the holes. It was a sort of palmball as I call it. It's akin to
duckpins of my parents' day in Bawlmer
. I had a little more success, but it just helped that my finger didn't hurt from bowling.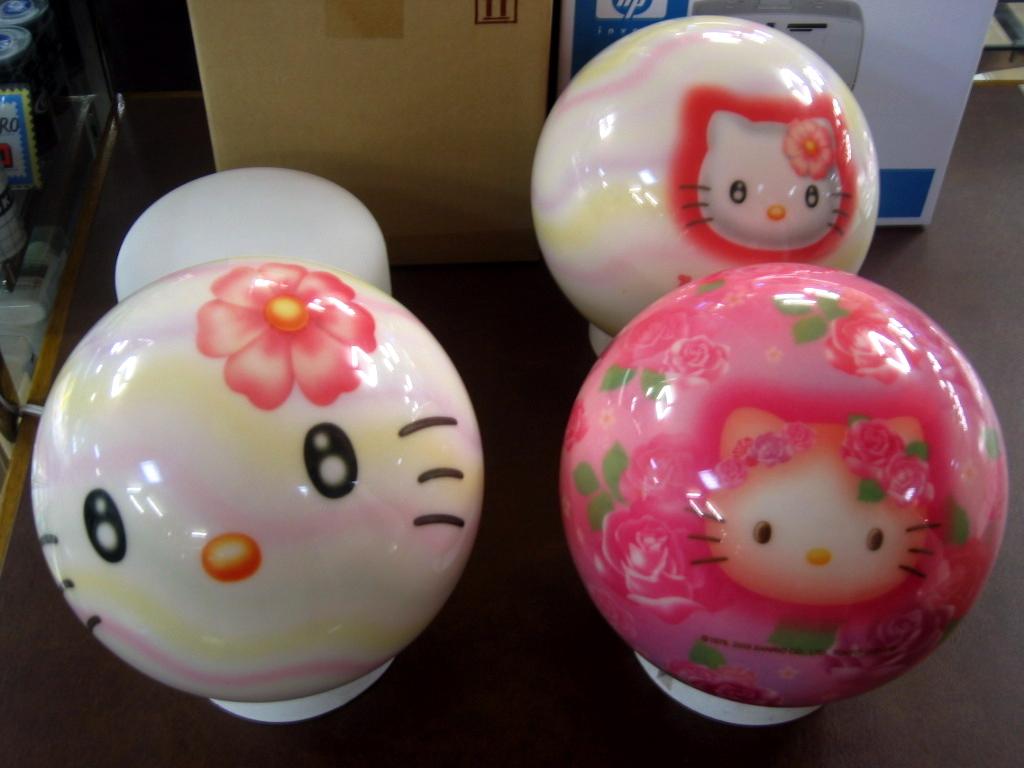 It sure would be fun to smash Hello Kitty's face into some pins, but you'd have to roll a pink ball.

Fast forward to Super Bowl Sunday. A neighborhood Brunswick bowling alley had an email coupon for $0.42/game. I couldn't pass it up. I made the trip figuring it was at worst a cheap day of bowling. I decided to actually practice bowling; something I never took the time to do when me and my buddy would just play. I knew my middle finger would hurt from the start so I played around with the palmball using an lime Jello green 11-pound house ball.
It was different bowling to practice instead of to score. I struggled with scores like 80, 107, and 112 as I toyed with my
hook into the pocket
and straight balls. The next 3 games went 125, 155, 127. After setting a personal best with 155, I was onto something. It helped I was converting spares too. I had my fair share of gutters, but that's what it takes sometimes.
Sorry grandma, but you'll never beat my Wii Sports bowling high of 280. That's right, I talk trash to anyone, any age.

My final 3 games went 220!, 117, 136. I was in a bowling zone for the 220. All this despite cosmic bowling from the fourth game on. My frames went: 9/, 6/, X, X, X, X, X, 9/, 8-, 8/9. It was uncanny. I just bowled without thinking, getting spares with ease. The next day, nothing along my right arm was sore so at least for one day, my palmball worked. I figured I'd be in pain after throwing so much, but not at all.
This guy bowling in a group next to me asked how I even bowled like this and I just said it feels comfortable. I made it a point to let him know I had never bowled so well before and may never again. I'm ambidextrous so for right-side heavy spare tries in the later games, I threw it from my left hand and it would also go to the pocket which helped on multi-pin spares. I even converted a tough spare (for me at least, probably not for anyone with talent) that was something like 7-5 or 7-3. I must have looked a bit cocky bowling with both hands, but it just worked.
I even zoned out the classic cosmic bowling tunes that played, including "Who Let the Dogs Out," "I'm Blue," and Shania Twain's "That Don't Impress Me Much."
I've looked for any information on holeless or palmball (is that a word?) bowling and I've only found people who throw a thumbless ball. Has anybody been known to throw a palmball with success? I understand this could have been a fluke until I try bowling again, but I'll enjoy it for now. Maybe I had one of the newer reactive resin balls for the house ball, but whatever it was, it helped. I should either buy the 11-pounder and try again or just retire at the pinnacle of my career.