Randy "The Rambunctious" Raccoon - Gone, But Not Forgotten
On June 27th, just past Turkey Run Park on the southbound GW Parkway, it was another beautiful summer night in the metro DC area. For Randy "The Rambunctious" Raccoon, the day started its typical way, but nobody knew it would be his last. A widowed husband and devoted father, Randy will never stray far from the hearts of area raccoons.
Randy only had one more year before his retirement pension (meaning old enough kids) would kick-in, so that it would be them to do the looking for food. Randy spent much of his career finding the next meal for the family, especially when his wife Ronda passed away after a misplaced step in front of Honda Civic in Rosslyn.
It was another hot and humid DC day as Randy began on his merry way. He stopped by his usual homes rummaging through garbage cans and sewers trying to find that night's meal for the family. He ran into a calico cat named Blake and simply stared him down before moving on. Randy always stood tough when confronting a cat, but it never became physical as both sides always agreed to disagree and go their separate ways.
In the following picture, two of Randy's children, too young to understand what occurred, look down the road hoping their father will cross the street and into their arms one day.
After a long day at the office comprised of those garbage cans and sewers, Randy only had to cross the GW Parkway to see his offspring and deliver food for the next day or so. Unfortunately, despite bright white headlights and the loud engine noise, someone (perhaps the author of this blog) was unable to avoid crossing paths with Randy.
Sadly, Randy died after colliding with the front left tire of a Chevy Malibu, only to get pushed around by the car's undercarriage, and then finished off by the back right tire.
Below is a sample from the family's photo album. It's a footprint from one of the raccoons as a baby.
Randy "The Rambunctious" Raccoon is survived by his 20 children whose ages range from 1-6 (thanks to his late mate's nine-week pregnancy cycle). His offspring includes 5 sons (Johnny, James, Jebadiah, Jeremy, and Jacque) and 15 daughters (Jackie, Jacklyn, Jamie, Jodie, Jenny, Janna, Jane, Janet, Jessica, Jean, Joanna, Joyce, Judy, Julia, and Juliet).
The following is a family portrait painted within the last year. The family has elected to have private funeral arrangements and welcome your thoughts, prayers, cards, and leftover dinner scraps.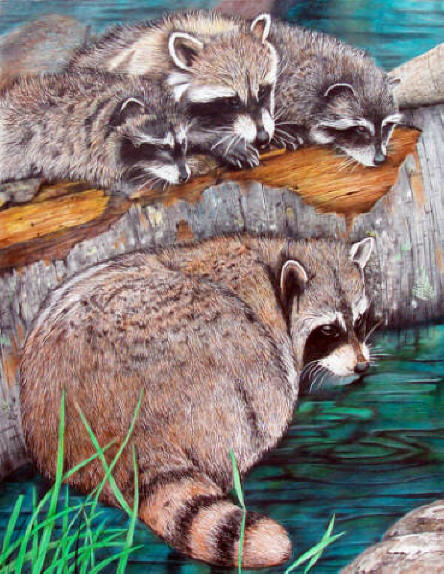 ------------------------------------------------------------------